Austrian Nationals 2016
by Julius Melhardt
28th October 2016
One might notice that Austria hasn't had Nationals in a few years. The reason for this is simple: We're less nationalistic, and significantly lazier than our national stereotype would indicate; couldn't be bothered for anything smaller than Continentals. However, this year has seen the addition of Masters promos to the prize pool for National Championships, and it would be a shame to let those precious pieces of foiled cardbord rot in the CC's storage facility. Thus, for the first time in four years, the Vienna playgroup is hosting an Austrian Nationals on Saturday, December 10th (First Edition) and Sunday, December 11th (Second Edition and Tribbles).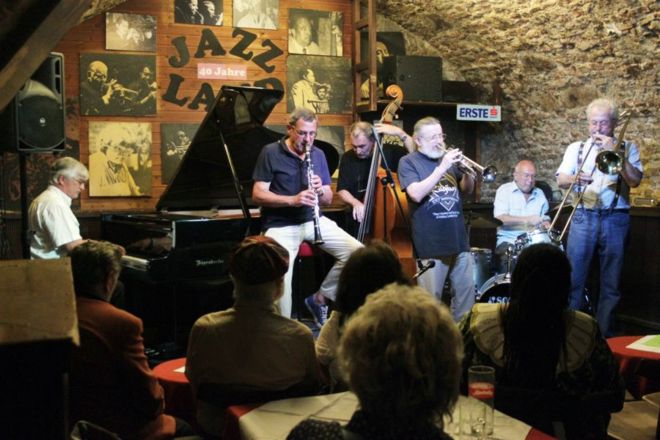 If you've played any major events in Vienna, you'll already know our venue, the JAZZLAND. This Jazzclub is open for business on Saturday night, which means that we must start early, as we won't be able to play quite as late into the night as we're used to. But it also means that anybody interested can watch a band! If you arrive early, there's the Hot Jazz Ambassadors playing Friday night, and the David Laszlo Marsall Swingers are scheduled for Saturday night. Finally, Sunday will be an open ended feast for the Tribbles among us, as the club is closed that day.
One final incentive for those of you still looking for reasons to visit Vienna in December: if you liked Vienna in the summer, you'll love it in winter. The city looks awesome in white, and will shine even if it doesn't snow. There are christmas decorations everywhere, and some lovely christmas markets, including the great Christkindlmarkt in front of our Rathaus.
Get pre-registered now! Bets on who the next Austrian National Champion in your favorite game will be are quite welcome. Bets on whether Austria will actually manage to elect a political leader by then (or what his offical title will be) are not...
Discuss this article in this thread.
Back to Archive index