So, You're New to the Borg?
by Maggie Geppert, Vice Chairman
9th November 2017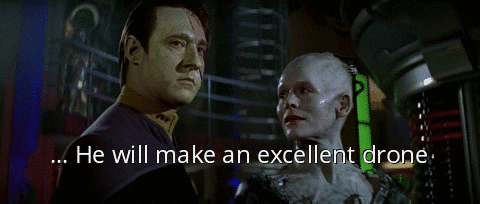 The main theme for the Borg in Second Edition is taking command of their opponent's personnel.  Sadly, there's no gameplay use for the term "assimilate" in Second Edition, so you'll be hearing about taking command of personnel or personnel you command but don't own.
Missions
All four non-Headquarters missions are located in the Alpha Quadrant, which gives you a big advantage in terms of bonus points from the Annexation Drone.  The current version of the Excelsior rules also gets rid of the requirement to add two to the range required to move between quadrants, which is also great for Borg.  Their ships tend to have higher range for the same cost as other affiliations' ships.  The first mission you want to attempt is Wolf 359, Assimilate Resistance.  This mission has high attribute requirements for a 35 point mission, but lets you take command of a personnel in your opponent's discard pile, so is worth the extra effort.  You may need that personnel for the next mission, Earth, Stop First Contact.  Again, this is another high-attribute mission with a high reward.  For the proce of removing one of your personnel involved in the attempt from the game, you can possibly remove five opponents' personnel from the game.  After that, you can go to Salvage Borg Ship.  Alpha 5 Approach is here as usual to prevent your opponent from microteaming.  This is especially important for this Borg deck, since you'll be needing lots of personnel to complete those big missions and will want to slow down your opponent to win.
Draw Deck
Your main ways to take command of your opponent's personnel are through a pair of events.  Abduction requires you to get two Security personnel present with your opponent's personnel.  You'll either need to catch them on a planet or use a pair of Invasive Drones as well as another Security personnel to get on and off their ship.  The Will of the Collective gives you the flexibility to either use combat or an engagement to take command of an opponent's personnel.  The Queen's Borg Cube will even let you begin engagements at your opponent's headquarters, which is pretty awesome.  Once you have some personnel you command but don't own, you can use One with the Borg to score five points for each of them.  This gives you the flexibility to try for the two-mission win, depending on how many people you can command.  Now, just be careful with those random selections.  Icheb, Genetic Weapon is in the current Excelsior card pool, so if you take command of him, you will be in trouble.
If you complete Wolf 359 before the Borg Queen, Obsessed comes out then you can play her for free.  She has a great skill set, including Leadership and Diplomacy, which are rare on Borg.  Locutus, Voice of the Borg is also important if you want to try for the two-mission win, as he gets you bonus points if you use his skills for a dilemma.  The Quantum Drone is probably the most important drone in terms of skills, as it is the only personnel with Astrometrics until you use the Cartography Drone to Interlink that skill.  It also helps you use large parties for the first two missions and pare down the number of dilemmas your opponent can draw and spend for the mission attempt.  And of course, the Computation Drone and Opposition Drone will help beef up your Cunning and Strength, respectively.
Dilemma Pile
I decided to build a Conscience of the King dilemma pile for this deck, simply because I don't have that achievement yet.  This dilemma plays on your opponent's missions and reduces the cost of each
or
dilemma by one.  The cost reduction let me try out some of the more expensive dilemmas that I won't normally consider using a deck, such as Chained Environment or The Nth Degree.  Both of these dilemmas are walls that go onto your opponent's mission to add Science to the mission requirements.  I also like using Terminal Resignation in this pile, making it possible to choose two personnel to be stopped for four cost, rather than five.
Excelsior
This deck is compatible for the Excelsior format that is currently in development.  It pulls cards from Version 0.3 of the restricted card pool and rules document.  Feel free to print this deck and give it a try at your next WCT League event.  Even though they are unrated, Excelsior playtests are eligible for league points.
Discuss this article in this thread.
This deck is currently eligible for the following family or families of achievements:
Decklist
Print Decklist • Print Checklist • Copy Deck • Download Into DeckPADD
Back to Archive index