2018 Peldor Gratitude Festival
by Maggie Geppert, Vice Chairman
14th November 2018
Peldor Joi, fellows Star Trek fans. We are coming up on the end of the year, which is traditionally the time when people around the world give thanks for family, friends and the good fortune they have had over the previous year. The Continuing Committee would like to take part in this annual tradition of thanksgiving by bringing back the Peldor Gratitude Festival. As part of this tradition, we would like to offer several options to celebrate:

Giving Back to Your Local Community
We encourage all Tournament Directors running tournaments in December or early January (up through January 6th) to run them as Chase the Can events. In this sanctioned format, the entry fee for the tournament is one canned good per round. This means that a 3-round First Edition or Second Edition would net a minimum of nine cans for your local food bank and a Tribbles tournament would bring in a minimum of fifteen cans. TDs, please PM me (jadziadax8) if you schedule a Chase the Can tournament.  I will flag it as such, so your players can receive a forum badge for participating.

On top of that, you could try out our unsanctioned Bend the Rules format, which allows each player to spend extra cans each game (or round in Tribbles) to use special rules to give themselves a competitive advantage. The winning player of each game gets to keep whatever cans were used to bend the rules. Last year I awarded a Miramanee, Loyal Preistess archive portrait foil to the player with the most cans at the end of the tournament, and we encourage TDs to find a suitable prize if they are able to. You can designate a tournament as Bend the Rules in the Scenario menu of the tournament system.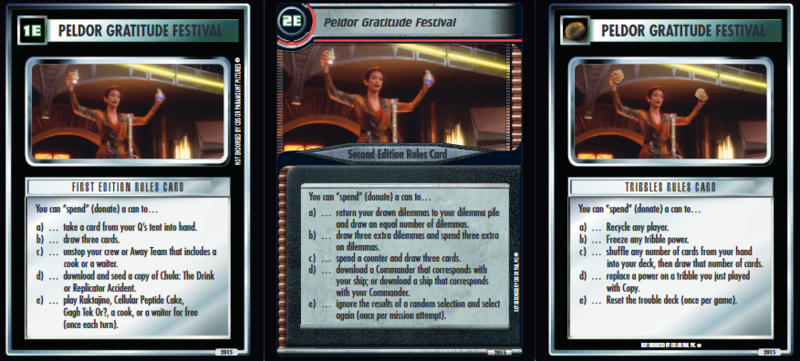 Giving Back to the Global Community
The Continuing Committee is pleased to announce that 50% of all donations made to us in the Promenade during the month of December will be given to Colorectal Cancer Alliance in honor of Michael Cook, a member of our community who recently passed away from cancer.

Giving Thanks for Friends in this Community
Stephan Allhoff (Pazuzu) has offered to run the Secret Santa gift exchange again this year. If you are interested in giving a gift to a random member of the community, and receiving one in turn from someone else, please sign up on Stephan's Secret Santa thread on the All Things Trek board. The deadline to sign up for the gift exchange is November 30th at 11:59 pm EST (AKA The Tick, AKA Server Time).  Here are a couple of gifts that were received last year:



We at the Continuing Committee are incredibly grateful for the community here. We hope that you will join with us in the Peldor Gratitude Festival this December.
Discuss this article in this thread.
Back to Archive index