Yarnek just barely won out over Abraham Lincoln in the previous vote, so we're going to be making a giant rock person for our personnel entry! To check out the previous steps and see all the discussion that led us here, you can check out the
master article
with links to all the previous discussion threads. In the mean time, the community's design marches on.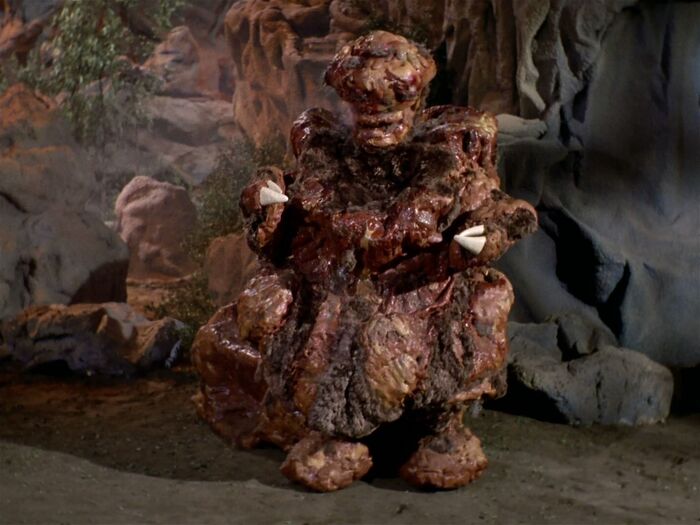 Yarnek
was the Excalbian who set the stage for the Good vs Evil conflict. He offered regular commentary on the "match" as it went, like a silicon-based Jim Ross. He felt his people's staging of the conflict was justified in the name of exploration, just as Kirk and co's five-year mission sought to do.
Before we can start working on Yarnek's skills, attributes, icons, and lore, we need to decide a) if he's going to have a special ability and/or a special download and b) what that ability will be. Game text space is as much as a premium on personnel as it was on missions, so the more space we use on a special ability or special download, the less there will be for regular skills. Of course, the decision to include special abilities - or not - is the next step. In this step, it's up to you to write special game text and submit it for consideration.
Here are a few suggestions:
1) The simpler the better. One-time triggers are easiest; static abilities are second.
Special skills that are single use or always on tend to take up fewer words that ones that have complex conditions and triggers. You're almost always better to say "Once per game, do X" instead of "If you do X, then Y, get a cookie."
2) Keep the effect local.
Personnel are rarely face up, so you don't want to make too many personnel with effects that span the whole game that are hidden. The scope of your effect should almost always be "present" - you can stretch it to "here" or "at this location" if it's a really flavorful ability.
3) Story mode is key.
In
First Edition
, the special ability of your personnel has to help sell the story of the personnel to the player. A good special ability connects the personnel's skills, attributes, icons, and lore together into flavorful package. If you haven't watched "The Savage Curtain" recently, it's worth an hour of time to do so before you mull over nominations too hard.
For special downloads, finding existing cards or groups of cards that make sense is always a great idea. If you feel there isn't such a card, then you can make your nomination a special download of a broken link - a card that doesn't exist yet. Make sure to pick a flavorful name for the download, and a very small note about what you think the card will do in
general terms only
. You aren't designing new cards, but you can put a bug in a future designer's here to help sell your idea.
As a reminder, a nomination will only be considered once. If someone beats you to your idea, feel free to riff on it and mix it up - that would be different enough, in this case. However, please note that similar ideas may be curated and combined before moving to voting.
Each of you may nominate up to two (2) suggestions for a special skill or special download for Yarnek. Please try and follow the rules outline above, and keep in mind the longer your special skill, the less room in the box for skills. Long special skills may push the personnel onto a three-line skill box, which cuts a line of lore from the personnel.
Nominations are open through 9 PM Pacific time on
Sunday, February 10th
. Shortly after that, I will go through and curate the nominations to provide a list of up to fourteen (14) choices, and voting will begin on Monday. Remember, the option to have "no special skill or download" will automatically be included, so you don't have to nominate it. Of course, I'll only curate the list if I have to.
So, in summary:
- You may nominate up two (2) special skills or downloads by replying to this thread.
- Popularity isn't a factor in nominations, so repeating a previous nomination as-is won't help.
- From the list of nominations, a maximum of fourteen (14) options will be offered for a vote.
- The option to not have a special skill or download will automatically be included.
Once you've nominated requirements, don't forget to head over
the mission thread
and suggest requirements for Excalbia, the mission we're making!
-crp